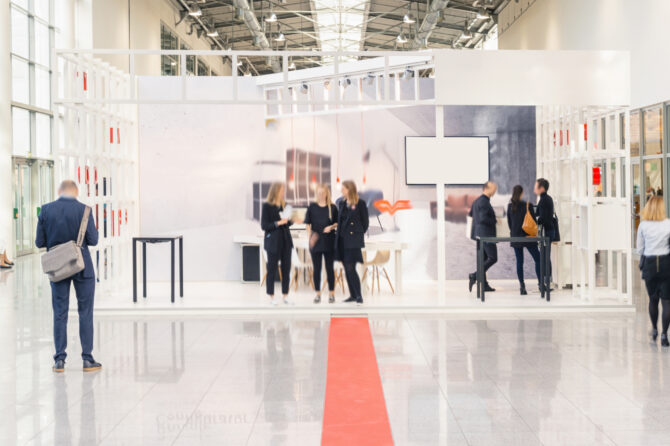 For many industries, conventions and trade shows are important business development events. The connections made at a trade show can significantly impact your bottom line. It's so important that everything goes right. Most event veterans have a go-to trade show planning checklist. This list is what they use to ensure nothing is ever forgotten.
One of the most important tasks is to ensure your booth has everything you need, including all printed items. If these aren't listed, your trade show planning checklist is incomplete. Double-check your list to see if these 10 printed items are included:
1. Up-to-Date Brochures
It's a given that you would bring brochures to an event. You may even be tempted to leave them off your trade show planning checklist because they are so obvious. But when was the last time you verified your brochures were up to date? Review your current stack of trade show brochures and look for the following:
Products and services that are no longer offered

Outdated wording

Pictures of — or references to — people who no longer work for the company

Descriptions that need to be updated
If too many items are no longer accurate, it's time for a reprint.
2. Signage
The right signs can add information to elements in your booth and draw attention to special items. They can also serve as conversation starters. Additionally, if the venue allows it, you can use signage throughout the event to point attendees to your booth.
3. Booklets
While you should have plenty of brochures to hand out to booth visitors, have some booklets available as well. These are usually more detailed handouts that are product-specific or service-specific. You may not give these out to everybody, but it helps to pass these out to hot prospects.
4. Stationery
Almost everybody attending an event needs something to write on. So help visitors out by handing out free company stationery.
5. Postcards
You won't bring these to the event, but your trade show planning checklist needs postcard mailers. Send them out to potential customers in the area to let them know you'll be there to meet them.
6. Business Cards
Business cards are perfect for trading with other vendors and building up your network. Everybody representing the company should have a stack of these available.
7. Flyers
Not everybody will have time to stop by your booth. That's okay; you can still make a connection. Keep a staff member on hand to pass out simple, informative flyers to people walking by.
8. Banners
How do you get noticed across a large, crowded convention hall? Stand out with a large, full-color banner to make your booth easy to find. A banner is a must-have item for your trade show planning checklist.
9. Order Forms
Will you be selling directly from your trade show booth? If so, bring along plenty of order forms.
10. Promotional Items
Finally, don't forget the giveaways that make your company memorable. These can include stickers, posters, magnets, and other items.
Do you need items printed for your next tradeshow? Let us help with that! Contact Ego id Media for more information or get an instant quote here.
Leave a reply