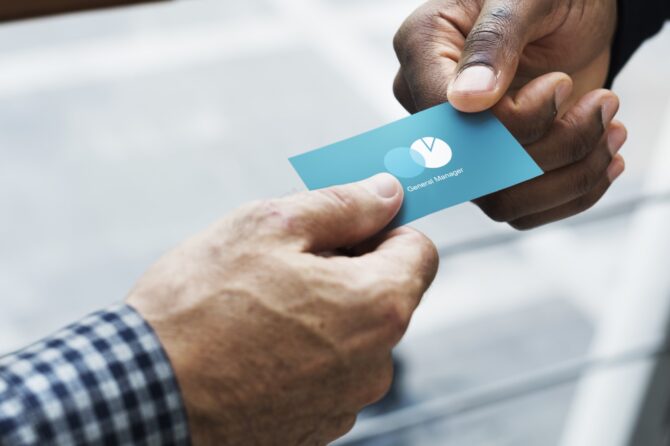 With the advent of digital networking platforms, you might think that business cards are a thing of the past. However, the reality is quite the opposite. Though online platforms offer easy access and a no-baggage approach to making connections, business cards do a better job of following the rules of engagement for networking. Here are the top five reasons why business cards are still relevant in 2021:
#1 – They're Tangible
Networking is all about making connections, and business cards are something physical and tangible that people can hold in their hands. It's a way to connect with them outside of an intangible digital space.
#2 – They Show Initiative
Business card printing is an extension of yourself and your brand. Extending your business card to others as a welcome note shows you are ready and prepared to work with them.
#3 – They Show That You Respect Others Space
Online platforms can spam users with emails and updates and dings that go off all day and night. In the best-case scenario, your potential contacts will mute notifications to maintain their own space. Worst case scenario, they'll send email notifications to spam and only check updates when they feel like it. Providing a no-obligation business card that's clean, well-formatted, and informational sends a message of respect.
#4 – They're Professional
A business card tells people you're networking with that you're a professional. And in many cases, a business card is still expected across a variety of industries.
#5 – They're An Extension Of Your Brand
Business cards can help you make a great first impression, distinguish you from your competitors, and allow you to be a little creative.
Business Card Etiquette
Here are some of the do's and don'ts when it comes to handing out your business cards:
Do
Keep your business cards accessible when you're out and about. Plus, make sure you have enough on hand, so you don't run out if you meet with a group.
After you receive a business card from someone else, write a few notes on the back. It'll help you remember what was important about the connection. Just make sure you do it when you're not with the person.
Follow up with an email after you exchange business cards with someone. Refer to what you talked about and tell them you look forward to staying in touch. Also, if you promised to send them something, make sure you provide them with the information or attachment.
Don't
Hand your business card to every single person you meet. It can give off the wrong impression.
Give someone a card with outdated information. Your phone number, email address, and other information should be current. Crossing out information and writing it in with a pen can appear unprofessional.
Hand someone a card that's in bad shape (wrinkled, torn, or stained). It just makes you look bad.
Business Card Printing
Professional business cards are still relevant in 2021 and sharing them can go a long way when you're networking. Contact us today to talk about a printed business card that'll help you make a lasting first impression.
We have a variety of stock business card options, or you can choose a specialty design like a folding business card or mini business card.
Leave a reply