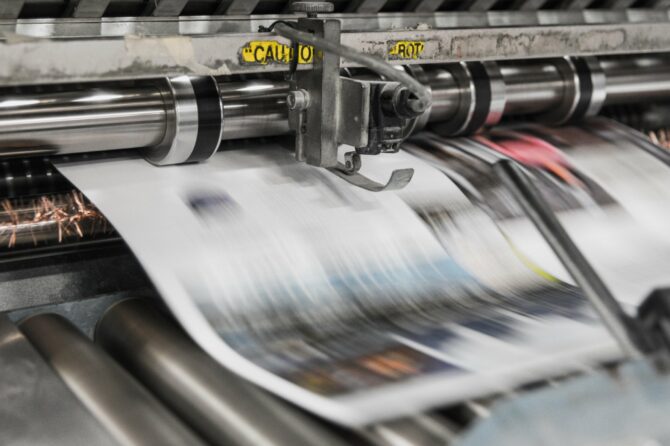 The digital marketing world has been bombarding its audiences with content and copy for decades. It's way too easy to get lost in a sea of competitors. So, how do you stand out from the competition? One creative way to stand out from the crowd is by printing a killer catalog to land right in your buyer's hands. If your catalog is well-designed and immediately captures their attention, you've cracked the code to stand high above your customer's drowning inboxes. So how can you create a great print catalog? Let's go through it step-by-step.
Step 1: Identify Your Inspiration
To match your catalog with your brand's messaging and desired aesthetic, curate imagery and themes that align with your company's goals. It may be helpful to create a brand marketing guide for reference. 
A marketing guide can be a simple list of keywords you associate with your main business objectives. For example, let's say you're going for sustainability, resilience, and social impact. What type of mental imagery does this spark? Start building your storyboard with these ideas in mind.
Step 2: Content is King
Next up, it's time to pull together the content that will sell your product. For instance, if you have a company website, you can refer to its 'About' page, the company mission, and the product specs. 
Design a layout for how you want the information to read in order of importance, and don't be afraid to tell it like a story. What's the big idea? How did you come up with it? What pain points have you found, and how does your company resolve them? 
Finish it by showing a level of impact; you can even pull in some numbers to show the scope of the solution. Of course, remember to include the pricing numbers as well! If your content is successful, everyone will want to know what the cost is for your solution.
Step 3: Connect to a Quality Commercial Printing Company
If you're ready to take all your ideas to print, partner with an esteemed company that will bring your inspirations to life. Cross-reference their reviews to ensure they can deliver the high-quality catalog you envision (hint: Ego id Media is up to the challenge). 
Ideally, you can collaborate with your printing company to perfect the catalog layout and seamlessly incorporate your well-thought-out content and imagery. Then, after a final run-through to ensure everything is in the right place, you can get those catalogs out to the world. 
Couple Creativity With Your Print Catalog to Leverage a Competitive Advantage
Taking your marketing game to the next level is easy when you have an exceptional product. But, if you're ready to evoke an emotional response from your potential buyers, contact Ego id Media today. 
We're passionate about working together to help you customize a layout that will resonate with your target audience. Catalogs are making a comeback, and we're ready to help you start leveraging our top-rated commercial printing services. Contact us or get a quote to get started!
Leave a reply