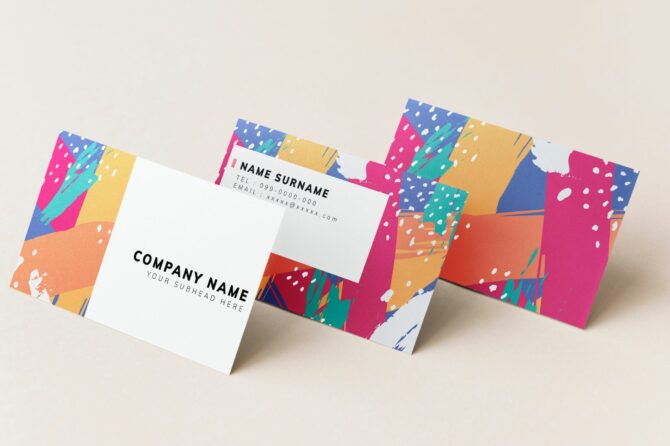 Your business card is your first impression and a memory cue. It is also a lasting reflection of your brand. To ensure you put your best foot forward every time, avoid these ten common business card mistakes at all costs.
Gimmicky Shapes
While oversized and elaborately shaped business cards are the current fad, they often fail to be easily accessible to the recipient. The traditional 2.5 x 3-inch model is designed to fit in wallets, purse pockets, and Rolodexes for easy access. A fancy card that does not fit these spaces is doomed to be discarded to the side.
Paper Quality
Your card is often your first impression. Poor quality paper that wrinkles, soils, and peels will reflect poorly on your business. Go for thicker and higher-quality cardstock when you can. Also, pay attention to how the finish and embellishments affect the overall quality.
Inconsistent Branding
A business card is an extension of your brand. If it has a different color pallet or style from your logo, website, and other marketing materials, it is harder for the recipient to associate it with your brand at a glance.
Color Contrast
Another business card mistake is a poor use of contrast. While a dark background and a light font may look visually striking, it isn't easy to read for some people. Likewise, fonts that are too similar to the background can also be difficult to read.
When designing a new business card, get a sample size and ask friends and family to review it for readability. If you can find at least one person with color blindness to provide feedback, even better!
Small Font
Avoid shrinking the font to fit more on the tiny space. Small fonts are difficult to read and have less visual impact. Try to stick to font 12 and higher as much as you can.
Poor Font Choices
There are thousands of fonts to choose from, but there are a lot of things that can go wrong. For example:
Choosing the wrong font for your brand. For example, Comic Sans is better for daycare than a professional financial consultant.

Fancy or hand-written fonts are difficult to read in the small space allocated to them.

Using too many fonts makes the entire card look messy and chaotic.
When choosing fonts, go with a maximum of two that are easy to read. Make sure it fits the brand and tone you wish to convey to your recipient.
Lack of White Space
Contrary to the name, white space is not necessarily white. Instead, white space refers to the open space around words, images, and other elements on the card. When done right, it increases the visual appeal and helps the reader focus on the information.
Too Little Information
Minimalist business cards look elegant and classy. However, they fail in their most basic function if they do not tell the recipient how to contact you. Don't rely on them to be motivated to "Google it" or scan a QR code. Instead, ensure the card tells them how to find your business and at least two methods to contact you.
Too Much Information
A huge business card mistake is putting too much information on the card. The more information you add, the smaller the fonts and elements have to be. It can result in a cluttered and unreadable card. Keep it to the essential information you need to:
Tell them who you are

Remind them what you do

Help them contact you 
"Who Are They Again?"
When was the last time you dug out a business card from some forgotten corner and went, "Who is this again?" A BIG business card mistake is putting so much effort into the design that you forget to remind the recipient who you are and why they should contact you. 
How many of these business card mistakes did you recognize? Fortunately, they are all easy to fix! Would you like us to help you create the perfect business card for your brand? Contact us or Get a Quote!
Leave a reply