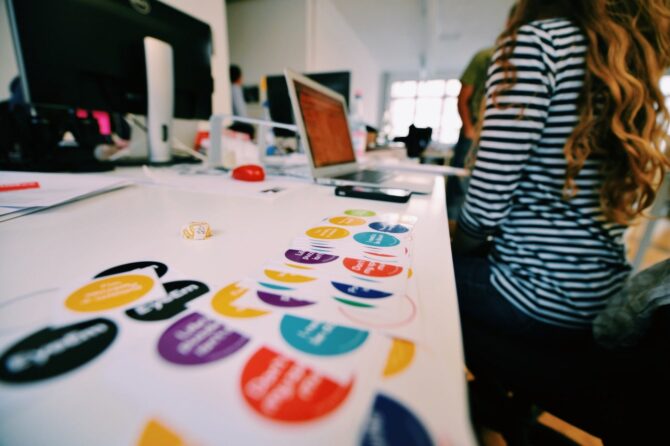 Stickers are not just for kids anymore. Once a trademark of childhood, personal possessions covered in stickers are now the norm for adults of all occupations. Today, it is just as common to notice a sticker on a laptop, travel mug, or back windshield of a car as it used to be for children to sport them on bicycles, schoolbooks, and toy boxes. Small businesses can take advantage of this pop culture trend with custom sticker printing in San Diego. Here are some reasons that marketing with stickers works.
Low Cost
The reason many small businesses start using stickers is their extreme affordability. Compared to mailings, t-shirts, and radio advertisements, stickers give you more bang for your buck. Due to advances in technology, necessary materials such as paper, printers, software, and die-cutting equipment are far less expensive than they were a decade ago. The availability of these items allows sticker printers like Ego id Media to create high-quality stickers while passing along savings to our customers.
High Perceived Value
The fact that people are willing to pay for stickers at a price beyond what they initially cost a small business to produce shows that stickers have a high perceived value. Whether you sell your stickers or give them away, people perceive stickers as being more worthwhile than other promotional materials. A potential customer is far less likely to throw a sticker into the trash than they are to toss a pamphlet, flyer, or business card.
Traveling Billboards
A sticker with your business logo is like a tiny traveling billboard that may journey across town or even across the world, reaching groups of potential clientele that you may never even have known to exist. When people passively spread the word about your business to their friends and families in this way, you benefit in the same way as you would from a client referral.
Client Relationships
People choose stickers with symbols of their accomplishments, names of places they have visited, and logos of brands they enjoy. Sometimes, of course, they simply choose a sticker because it is cute. Whatever the reason, when people dedicate space on their laptops to your company's sticker, those people are associating your business with their own identities and hence entering into a relationship with you.
Brand Association
No matter how remotely related the sticker you create may be to the product or service you offer, it is still a reflection of your brand. Consider the following associations customers might make with your design:
Cute pictures with a fun product
Witty sayings with a product smart people use
Niche-specific jargon with expertise
High-quality stickers with well-made products
Sticker Printing in San Diego 
Ego id Media is a San Diego-based commercial printing company that specializes in custom stickers and other print, design, and promotional needs. We offer all sizes of stickers, ranging from  1″x1″ to 11″x17″, in squares, rectangles, and circles. Whether you need 100 or 5,000, most orders are ready within 1-4 days. Unsure of your design? We can help with that, too. Contact us today for a quote and let stickers start working for your business.
Leave a reply