Business Cards – Suede with Raised Spot UV – 19pt
Feel the difference with Suede Cards — soft to the touch, they bestow a hint of luxury to brands and create marketing pieces that stand out from the competition. Suede Cards are printed with high quality equipment on 16pt card stock, then they are laminated on both sides with 1.5mil scuff resistant, soft velvet laminate, which give them a substantial thickness of 19pt. Suede Cards are printed in full color with Spot UV one one or two sides.
Raised Spot UV jobs are set up the same way as Spot UV jobs. When creating a Raised Spot UV job, you must include a Raised Spot UV mask file along with the regular print file. Please note, the mask file must be vector art created in vector-based programs such as Illustrator.
The Raised Spot UV mask file is used to show where the UV coating needs to be applied. Please only use solid 100% K (C 0%, M 0%, Y 0%, K 100%) to indicate where you would like the UV. Do not use shadows, glows or grayscale images. White will indicate no UV.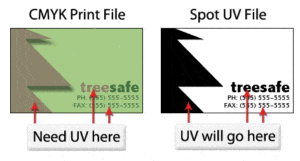 Click to Download Layout Template
What's the difference between Spot UV and Raised Spot UV?
Spot UV is a flat finish of a shiny layer that goes on the exact spot where you would like your printed piece to have an area of a high gloss coating.
Raised Spot UV is the same process, except the UV that gets applied stands out from the product, that if you run your fingers over the card you will feel the UV. The depth of the Raised Spot UV is 50 microns.