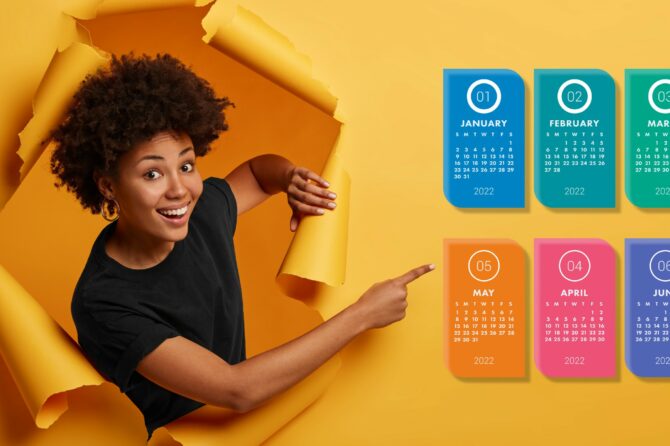 With so many smartphones and digital calendar options, it comes at a surprise that people still use wall calendars.  It's true! according to Data Intello, "paper wall calendars are expected to hold the second-largest market share" of the Global Wall Calendar Market, which is expected to grow for the next eight years.  So if you're looking to hit full-impact exposure by marketing your business you may think about adding a custom wall calendar to your marketing strategy. A custom wall calendar is a strategic solution that is the perfect promotional giveaway.  Here are the 5 reasons to market your company with a custom calendar.
1. Provides a tangible, lasting message
Marketing doesn't have to be a short-lived message on a digital screen or a radio ad: it can be more meaningful than that. For example, a wall calendar stays useful and visible throughout the year, ready to promote day in and day out.
2. It has the edge of simplicity.
Unlike promotional apparel, a custom calendar is always the correct size. It stays put, doesn't get lost, and doesn't require additional instruction. It's a surefire way to keep your contact information and brand messaging on display around the clock.
3. Encourages a two-way street
While emails and banner ads have their place, they don't inspire any mutuality between customer and company. A wall calendar as a promotional gift demonstrates goodwill and encourages a mutually beneficial relationship. In fact, 70 percent of people receiving promotional calendars plan on doing business with the company in question (according to a survey by PPAI Media). A wall calendar can be just the beginning of a positive business relationship!
4. Digital calendars don't always cut it.
We mentioned earlier that all of our smartphones have calendars. But a wall calendar has the expanded capacity to mark important events in a readable, direct manner (instead of searching through tiny text and clicking through several pages to find one piece of information). We all love a good wall calendar that holds everything we need to know, all in one glance across the month.
5. Surprisingly affordable and customizable
Depending on how far you want your marketing message to reach, you may have to spend tens of thousands of dollars annually on online marketing. On the flip side, wall calendars can ring at under two dollars each (especially if you order in bulk) and reach thousands of potential customers. Although you can also reach a large audience with online marketing, a wall calendar may be more cost effective in the long run.
Timing your calendar delivery is everything.
Now is the perfect time to start the process on your company calendars. At Ego Id, we make the process easy for you.  We work with you to incorporate your company's brand message into the design and provide quality prints that stand out above the rest! 
If you'd like to get started on your custom wall calendar, contact our team today! 
Leave a reply