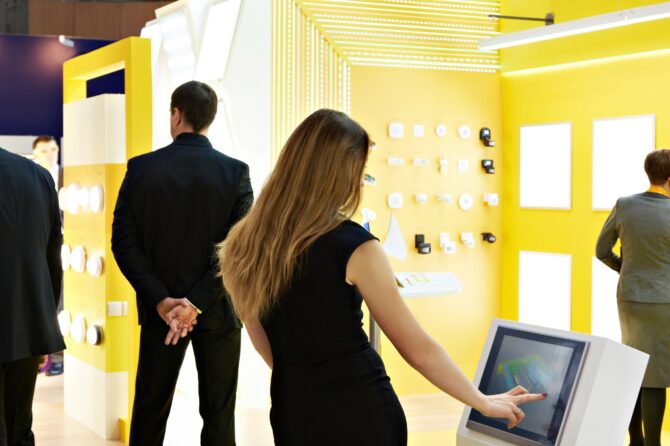 If you want to convert leads into buyers at this year's upcoming trade shows, ensure your booth is decked with the perfect collection of prints to showcase your company's value. Let's review the five must-have trade show marketing materials to make a great impression.
1. Banners
It's worth investing in a beautifully made banner attracting show-goers from across the floor. When printed right, a well-designed banner can last for several shows. Of course, you want to be as visible as possible among the sea of competitors and attendees, so don't be afraid to make an impact with a bold banner.
2. Business Cards
A professional business card that captures your company's brand at a glance heightens exposure and retention after making a stellar first impression. Give your customers something to remember you by, and strategically place them in convenient locations, so your card is always ready. 
3. Brochures
When striving to make a special connection with a potential buyer, get the job done with a full-color brochure in print. Design it to highlight your top products and outline specs in detail. Before you order prints, though, make sure to check for even the most minute errors. This is a chance to put your best foot forward, so make it count!
4. Postcard Mailers
Before your booth even goes up, you can increase your chances for success by sending postcard mailers to everyone on your prospect list. Let them know you'll be at the show, ready to display the latest and greatest of your product line, network with peers, and execute orders. 
Send out your mailers 4 to 6 weeks in advance to give recipients plenty of time to plan, and follow up after the show to get the most out of your marketing strategy.
5. Promotional Items
Show-goers love to pick up keepsakes from their favorite booths, so it's a great idea to add to their collection. Stick with the theme of your brand and design offerings like magnets, stickers, decals, or notepads. After the show ends and everyone goes home, your company has the chance to leave a lasting message. Include your contact info to give them convenient access when it's time to reach out!
The Benefits of Working With a Quality Print Company
Put your best foot forward when you find the perfect company to get all your promotional materials printed. Whether you need just a few things off this list or you're ready to get the full package, Ego id Media is ready to execute on schedule with your commercial printing agenda. 
Our team of creative designers, refine and tailor your prints to fit your company's budget and timeline. Contact us or get a quote to get started on getting your five must-have trade show marketing materials!
Leave a reply